Small business owners have a lot on their plate. You're always busy, and it can be hard to stay focused on the long-term goals that will drive growth.
Setting 90-day goals helps you focus your efforts towards achieving something meaningful in a short amount of time.
In this post, I'll share the top 5 reasons you should be setting 90-day goals and share tips on the goal-setting process.
What are goals and why do we need them?
Goals are the intentions we have for our business. When you know what you want, it's easier to make plans to get there and decide what actions will bring you closer to accomplishing your goal. Goals can be big or small, complex or straightforward – anything you can picture in your mind can be a goal.
So why do we need goals? Goals help you stay motivated. They also encourage you to maintain focus by taking daily action. Without that focus, you'll be tempted to follow the next shiny object that comes your way.
The top 5 reasons that you should be setting 90-day goals
I think we can agree that goal-setting is important, right? But why focus on 90 days? Let's look at the benefits of 90-day goals so that you can decide if they are right for you.
I will say that 90-day goals have been an absolute game-changer for me. Also, this process works for personal goals the same way it works for professional goals.
1. 90 days is enough time to accomplish something meaningful.
One of the biggest reasons I set (and recommend) 90-day goals is because they are short enough that you can accomplish something meaningful within that time frame.
When it comes to achieving your goals, you want to make progress and see results quickly. That way, you'll be motivated to follow through.
2. Setting longer-term goals, such as 6-month goals or annual goals, makes it too easy to procrastinate.
Longer-term goals are often harder to get started with. When you have so much time available, it's easy to put off getting started.
With 90 day goals, you have no time to waste!
3. Things change. Annual goals may not be relevant in a few months.
Today's business environment is fast-paced. Your business can change significantly in a few months. That means you'll need to change your goals if they are annual ones. 
Setting 90-day goals helps prevent this from happening. Every three months, you'll set fresh goals.
4. When you set a few 90-day goals, you can really focus.
90-day goals allow you to go all in. You won't get distracted by shiny objects that come your way. You can set aside any new ideas you have because you know another 90-day period is coming up soon.
5. A 90-day period allows you to tackle a few goals at a time.
If you try to tackle all your goals at once, you won't get anything done. It's like you never get to the finish line on anything because you are constantly working on everything.
This is why setting 90-day goals is better – it's easier to stay focused, and it's easier to recognize success when small wins are achieved!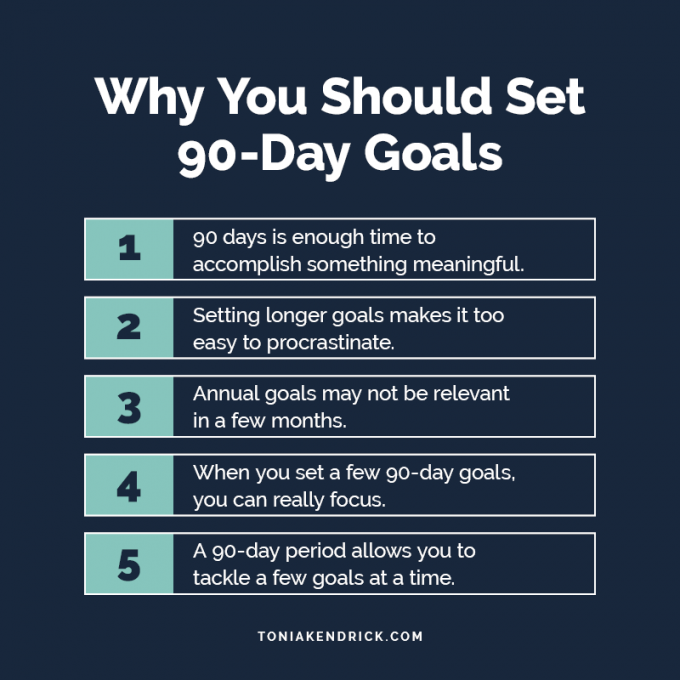 How to set goals that will work for you:
We'll walk through the goal-setting process below, but before you get started, take a moment to reflect on what you want to achieve.
Here are some questions you might find helpful when creating goals:
What have I accomplished in my business for three months?
What do I want to accomplish during the next 90 days?
Am I confident enough with where my business stands right now and moving forward?
What are the biggest challenges that might come up in these next three months, and how can I plan to overcome them?
What will success look like for me at the end of this 90 day period?
How to Set and Achieve 90-Day Goals
The process of setting 90-day goals for your business is a simple one that anyone can follow. First, you will need to think about what you want out of the next three months and write it down so that you have something concrete to work towards. Then, break those objectives into smaller pieces. You want to have measurable, achievable steps that are still challenging enough to be interesting.
Download this free 90-day goals printable to help you get started!
Now, let's dive into the goal-setting process, step by step.
Step 1: Brainstorm possible goals
To begin the process of setting 90-day goals, you first need to brainstorm some possible goal ideas.
Do a brain dump. Write down all the ideas you have, big and small.
Think about the different areas of your business that you might want to set goals around. Revenue. Product creation. Content. Email marketing. List growth. Social media. Visibility. These are just a few ideas to get you started.
Step 2: Choose the goals to work on
Next, go through your brainstormed list and identify what you want to achieve in the next 90-day period. Narrow this down to a short list of goals. I recommend no more than 3 to 5 quarterly goals.
Write it down and be specific.
For example, one of my goals for the current 90-day period is to build up a backlog of blog posts. Specifically, I want to have 12 posts written and ready to publish that I can then drip out weekly.
Step 3: Make your goals achievable
One of the biggest mistakes I see people make when setting goals is thinking they can achieve something in a short period of time that would take years to accomplish. It makes it very hard for you to stay motivated, and there's also no way you'll actually reach your goal!
Since we are setting 90-day goals, make sure that you narrow your goals down to something that is doable in ninety days.
Let's take a look back at the goal I mentioned above. If I said that I wanted to build up a backlog of 100 blog posts, that wouldn't be very realistic (unless I wanted to pay someone else to write them). But 12 posts in 90 days feels like a realistic goal to me. So I can achieve that goal.
Step 4: Create action steps for each goal
Now that you have your goals in place, it's time to create actions steps for each goal. This is where your focus shifts to 90-day goal planning.
Concentrate on the action here. What do you need to do?
Here's an example.
Another one of my goals for this 90-day period is to pay down my business credit card balance. So I have two action items related to that.
Every week, I pay off all the charges incurred that week.
Every month, I pay an extra $100.
Related post
Step 5: Set aside time to work on your goals
Finally, set aside time in your schedule to work on these goals. Otherwise, it's too easy to let all the day-to-day things take precedence. So build your goals into your schedule. This step is a key part of your 90-day plan.
With the credit card example above, I know that every week, I need to pay off the charges made with my business credit card and make an extra $100 payment once a month.
I do bookkeeping work on Fridays, and I have added specific subtasks into my workflow to remind me to make those credit card payments. So that's how I've built this goal into my schedule.
Bonus tip: Keep your 90-day goals and action steps visible
Once you set your 90-day goals and create your action steps, keep the whole thing handy in a place where you can see it all the time. That might be a physical planner, a digital app, or even a plain old Google doc.
I keep mine in an Asana board so that it's easily accessible on my computer, tablet, or phone.
Recap:
Achieving 90-day goals can be a challenge, but it's worth the effort. The tips in this post will help you plan and reach your objectives in the next three months.
Start by brainstorming different areas of your business that need improvement or growth.
Next, identify what you want to achieve during this time period to know where to focus your energy and resources.
Create specific steps for each goal with measurable action items that are achievable yet challenging enough to keep them interesting!
Finally, build time into your schedule to work on the goals.
If you're looking for a way to improve your business and see results soon, setting 90-day goals is one of the best ways to do it!
And don't forget to download your 90-day goals template before you go!
Want to remember this? Save The Top 5 Reasons You Should Be Setting 90-Day Goals Today to your favorite Pinterest Board.
Related Content: