Last Chance!
ANNIVERSARY SALE
Get 40% off any of the items below using coupon code:
Anniversary40P
PRO-TIP
If you click any of the "Learn More" buttons below, be sure to come back to THIS page to buy or grab the coupon code above.
Finance Dashboard
Looking to take control of your business finances? The Finance Dashboard is the perfect solution! This easy-to-use system makes it simple to keep track of your money and make smart decisions about your business. With the Finance Dashboard, you'll have a clear overview of your expenses, income, and financial status – so you can make informed choices and stay in control of your business's future.
Content Planning Toolkit
If you dream of publishing great content consistently but feel overwhelmed and don't know where to start, the Content Planning Toolkit is your answer! This complete system takes all the guesswork out of creating a plan that's doable for you. You'll get step-by-step guidance to help you map out your content ideas, plus tools and resources to keep you on track.
Time Blocking Toolkit
If you're feeling overwhelmed and like you can't get a minute to yourself, the Time Blocking Toolkit is for you. It's a complete system that will help you find the time to get the most important things done. With step-by-step instructions, worksheets, and templates, you'll be able to create a schedule that works for you.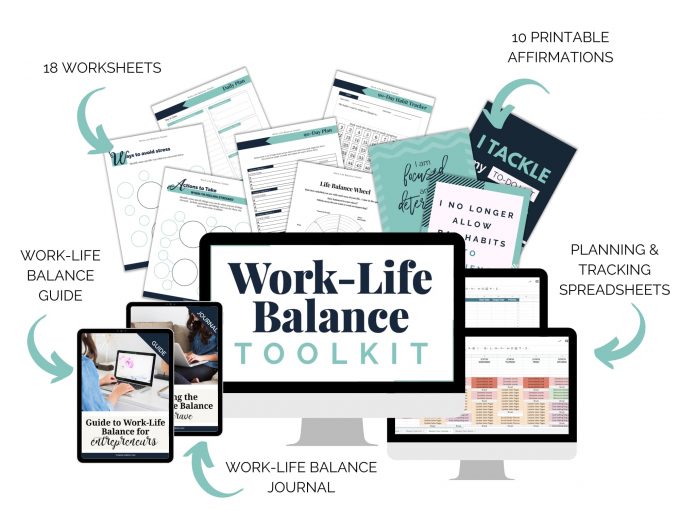 Work-Life Balance Toolkit
The Work-Life Balance Toolkit is your go-to resource for creating more balance between your work life and personal life. Featuring helpful guides, checklists, and templates, this toolkit will help you design a work-life balance that works for you. Whether you're struggling to find time for yourself or trying to manage a hectic work schedule, the Work-Life Balance Toolkit has something for everyone.
Content Multiplier
Content Multiplier is your ticket to content freedom! With this program, you'll learn how to take your great content and turn it into multiple pieces that you can use in different ways. So instead of starting from scratch every time, you can reuse, remix, and repurpose your old work to save time and keep your audience engaged. Sign up now and stop struggling with content creation!