Are you overwhelmed with all the things you have to do and keep up with in your business?
I've tried numerous task and project management tools over the years. Trello, Outlook tasks, Toodledo, Excel spreadsheets, 30/30, various paper systems, and more that I don't remember the name of. Some I liked, some I hated. Some were good but were missing a key feature that was a deal-breaker.
Asana project management software is the latest tool that I've tried in my quest for improved productivity. I've been using it for four years now. It's a keeper.
Project management for solopreneurs
I have certain features that I'm looking for in a project management tool for my solopreneur business.
Must-haves
Repeating tasks: I have a lot of tasks that are repeated, whether it's daily, weekly, monthly, or some other interval. My tool must be able to replicate the task (with the new due date) when I mark it complete.
Works on all my devices: I have a Windows laptop and iOS mobile devices, so I need something that works on both platforms. Asana is web-based, so it can be used on Windows or Apple devices and there are apps for both iOS and Android. Bonus: they just came out with a new iOS app, which is much better than the old one.
Syncs across all my devices: I also need a tool that syncs, so that I have access to my tasks everywhere.
Ability to export to Excel: Sometimes I just need to see things in a spreadsheet. With Asana project management software, there are a lot of export options. You can export tasks in a single project, everything in a workspace, or even search results.
Intuitive interface: I don't want to spend a lot of time learning a new system. I want to be able to get up and running quickly. Asana has a lot of nuances that I've learned over the last 90 days, but I was able to dig in and start using it from day one.
Nice-to-have
Clean visual space: This is not a deal-breaker, but I do prefer a nice, clean visual space. Lots of clutter distracts me and ugly colors that I can't change make me not want to use the tool. The first time I logged into Asana, I breathed a sigh of relief. It's so crisp and visually appealing. Lots of white space, but also the ability to color code.
Ability to integrate with other tools: Again, this is not a deal-breaker, but I like being able to integrate my task management tool with other apps.
Why I think Asana is the best project management software
Organizational framework
The 30,000-foot view is the workspace. I have a workspace for my biz, for personal life, and another for a large volunteer project. Inside workspaces are projects, then tasks, and sub-tasks. When I logged in the first time and saw how it was organized, I said to myself, "Yes, this makes sense." I also like that you can attach a task to more than one project because sometimes things fit in more than one area. You don't have to force a task into one project.
Drag and drop
Pretty much everything can be dragged around, which makes it super-easy to reorganize. Every morning when I'm planning my day, I drag and drop that day's tasks into priority order. Projects can be dragged into a different order to keep high-priority projects at the top of the list. Tasks can be dragged into other tasks to become subtasks and subtasks can be dragged out to become tasks.
Asana Getting Started Guide
Calendar views
I'm not someone who puts her tasks on her calendar; I like to keep my calendar for appointments only. Nevertheless, I like to see a calendar view of tasks. With Asana, I can view a calendar for each project individually or for all the projects in the same Workspace. I can also drag tasks around in calendar view, which is helpful when I'm planning my week. If I have too many tasks planned for the same day, I can drag some to another day.
Toggl integration
I've used Toggl for years to track how I spend my time, so I love that I can use Toggl with Asana. With the Toggl Button chrome extension, I have Toggl and Asana integrated, so that I can start time-tracking in Toggl from my Asana task. The project and task name are carried over from Asana to Toggl, which keeps the language in both systems consistent. And, it saves me from having to go back and forth between the two systems.
"My Tasks" view
I have to be honest. I did not love this at the beginning, but now it's one of my favorite things about Asana. The My Tasks view breaks down all your tasks by due date into three buckets: Today, Upcoming, and Later. What makes this work is that you can collapse Upcoming and Later so that you don't see the tasks.
The Today bucket pulls together everything with today's due date, from all projects within the same Workspace. This is the view I live in and it keeps me from getting distracted by all my other tasks and projects.
Searching
The search capabilities are quite good and you can get really granular with search queries. The most important thing for me is to be able to search across the whole Workspace. One of the things that I disliked about Trello was that I could only search one board at a time.
Duplicating Tasks & Projects
Tasks and projects can be duplicated, which is great for creating workflow templates. For example, I have a "Blog post workflow – template" task. It includes all the sub-tasks for writing, publishing, and promoting a blog post. For every new blog post, I duplicate that task and change the name. No re-creating the wheel for every post.
It's super-easy to duplicate a task in Asana. Simply open the task, then click on the three dots in the top right corner. Then click on "Copy task" in the drop-down menu.
Unicorns
You read that right. There are unicorns. Sometimes, when you mark a task complete, a unicorn flies across the screen. Is this necessary in a project management tool? No. Does it make me happy? You bet.
The cost
So, what does all this awesomeness cost? Nada. Nothing. Zip.
There is a premium version that offers more features, but I haven't found the need for any of them. The free version does everything I need it to do.
Wrapping Up
There is a lot more that Asana will do that I didn't get into in this post. I wanted to share the features that I use every day – the ones that made me fall in love.
If you've been looking for a way to get more organized, be more productive, and just get sh*t done, then I encourage you to try out Asana for your project management tool. From the largest project to the tiniest detail, Asana will keep up with everything.
If you've used other project management apps and they haven't worked for you, then give Asana a whirl on your next project. It may be the system that finally makes sense for you.
Asana Getting Started Guide
Want to remember this? Save Why I Fell in Love With Asana for Project Management to your favorite Pinterest Board.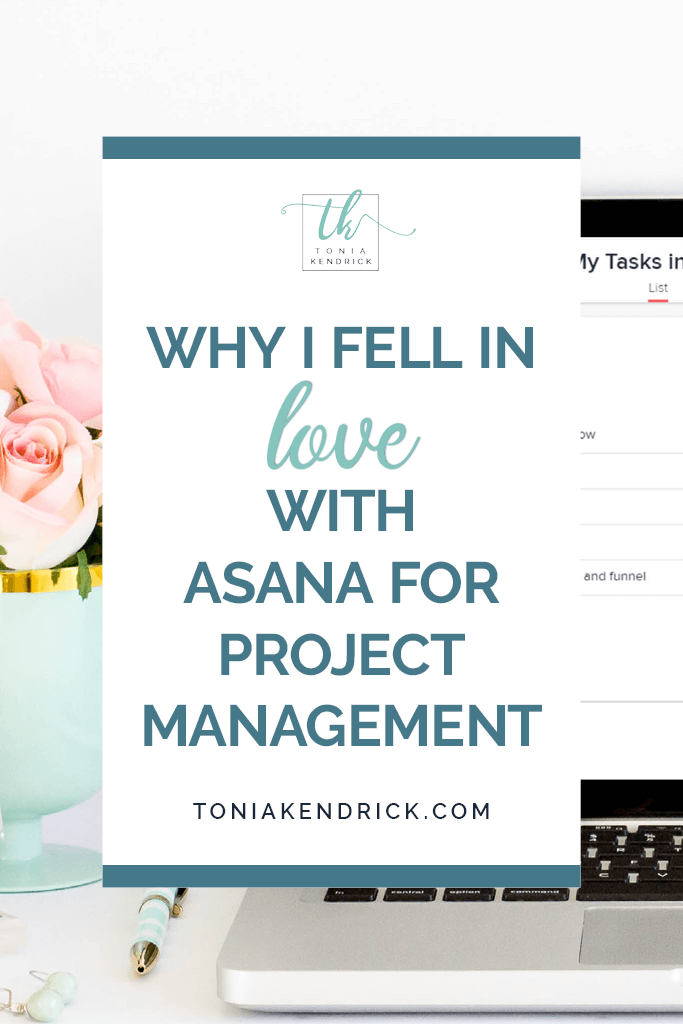 More posts about systems that you may find helpful: