The first step in writing awesome content is to make sure that you have a never-ending well of great ideas. I recommend keeping those ideas in a spreadsheet.
Spreadsheets are simple, flexible, and you can get as crazy as you like with color-coding. There are many different ways that you can use a content spreadsheet. In this post, I focus on how to keep your content ideas organized. I'll guide you through how I set up my Content Idea spreadsheet, how I map the spreadsheet to a content calendar, and how I use the spreadsheet to ensure there is variety in my content marketing schedule.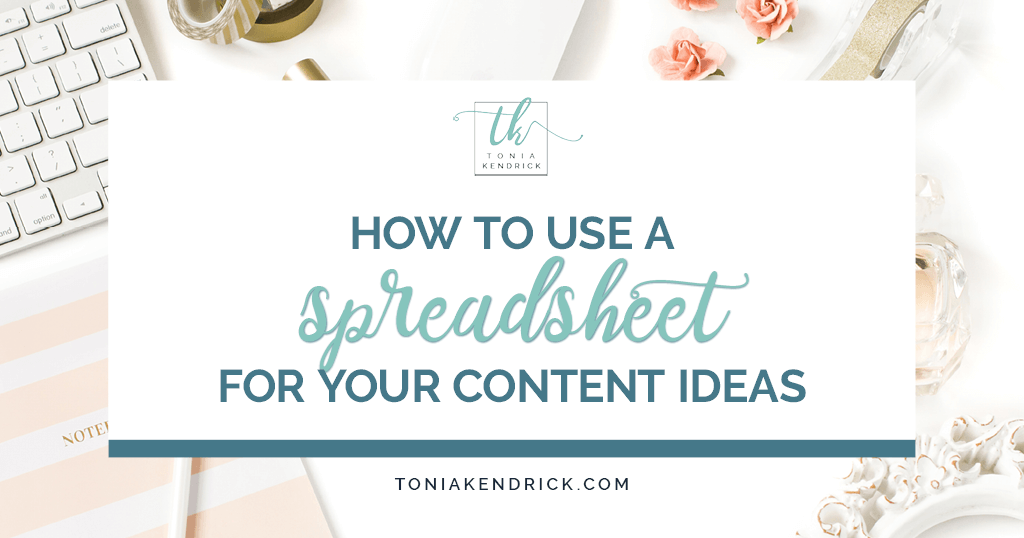 This post contains affiliate links, which means I receive a small commission if you make a purchase using this link. For more information, see my full disclaimer here.
As any writer knows, staring at a blank computer screen trying to come up with an idea to write about is a surefire way to get writer's block. It's much easier to write if you have a well of ideas that you can draw from. It's even better if those ideas are in an editorial calendar so that when you sit down to write, you already know what your topic will be. For example, I knew when I woke up this morning that I would be writing a post about my Content Idea spreadsheet.
Why I Recommend a Spreadsheet
I think that spreadsheets are the perfect format for maintaining a list of blog post ideas. A spreadsheet can be as big or as small as you need it to be. The structure of a spreadsheet – columns and rows – makes it perfect to capture the basics of your content ideas and then see your plan at-a-glance. The ability to color-code, sort, and filter make the Content Idea spreadsheet extremely flexible and user-friendly. And you can add additional tabs to a spreadsheet for ideas that are related but don't exactly fit in with your post ideas. I use Excel for my spreadsheets, but you could also use Google sheets, Google Apps, or any other spreadsheet app.
Need your own idea sheet template? Grab a copy below:

Bonus Template
Download a copy of my spreadsheet template that you can use in Excel or Google Sheets.
Read on to learn how to organize a spreadsheet to keep up with your own awesome blog ideas.
The Post Idea Tab
The main tab in my Content Idea spreadsheet is Post Ideas. It's a very simple format, with one post idea per row. Each column is for additional information related to the idea.
About once a month I brainstorm ideas for blog posts that fit into my content strategy. I add each idea to a row in the Post Ideas tab in the spreadsheet. I may not fill out any other information at that time; my purpose is to make sure I don't lose the idea. I keep the spreadsheet in Dropbox so that I have access to it on my phone and iPad – I want to be able to add ideas no matter where I am.
Columns are set up based on the structure of my blog, which includes categories and sub-categories. I have two columns for categories and two columns for subcategories, but I typically only use one category and up to one subcategory per post. I also have columns for tags, series, notes, and content upgrades. The notes column includes any initial thoughts I have about the post content that I want to make sure I don't forget, such as keywords that I might want to target for SEO or different content types to include such as video or audio.
Color Coding: the secret to visual organization
I love color coding! If I can color code something, I will. That's one of the things I love about spreadsheets; they are so easy to organize with color codes.
The top five rows of my Post Ideas tab is a header area. It includes a snapshot of the six major categories for the blog, with the sub-categories underneath. Each category and its sub-categories are assigned a color. I then use the cat/sub-cat colors in the body of the spreadsheet.
I use two more colors, in addition to the color codes for the categories and sub-categories. Post ideas are color coded gray when they get added to my editorial calendar in CoSchedule. Once the post is written and scheduled, I change the color code to red.
Other Spreadsheet Tabs
Other spreadsheet ideas that you can use to stay organized include adding tabs for different types of content or tabs for other information.
In addition to Post Ideas, I have two more tabs in my Content Idea spreadsheet. One is for series ideas. This is simply a list of ideas I've had for post series. I include how often I want to publish posts in the series and the regular posting schedule. For example, I have a series on Using Evernote, with posts written twice a month and scheduled for the 1st and 3rd Friday.
The third tab is Brainstorming Sources. This is a list of places I could look for ideas if the creative juices are running dry. Right now, it includes blogging forums, Facebook groups, Pinterest, etc.
Transferring Ideas to the Editorial Calendar
Once a month, I go through my Content Idea spreadsheet and decide which posts I'm going to plan on writing the following month. I have another spreadsheet that I use for my blog editorial calendar. It's organized by date and weekday and also includes all the other content I plan to write, such as emails.
If you don't want to use a blog spreadsheet, then there are many other options for content calendar templates. You could use a paper calendar like the Epic Blog: One Year Editorial Calendar or the Badass Blog Planner to schedule your posts. Trello, Asana, and Google Calendar are also good options to keep track of your content marketing plan. There are also a variety of free WordPress plugins that you can use for your editorial calendar.
Filling Holes in the Calendar
When I look at my editorial calendar for the month, I can immediately see if there are holes that need to be filled. By using color codes, I can also see if there any categories that are missing or are over-represented. I then take that information back to my Content Idea spreadsheet and look for post ideas to fill the holes. For example, if I see an empty date and I notice that the calendar doesn't have any pink on it, then I know to look for a Productivity idea.
In the Content Idea spreadsheet, I filter the Primary Category column by Productivity. This will pull up ideas related to Productivity and I can pick one to add to the calendar.
Spreadsheets can be as simple or as complex as your needs dictate. That's what makes them so flexible. Using a spreadsheet to manage your content ideas can keep you super-organized, help you build variety into your editorial calendar, and ensure that you never run out of topics to write about. And once you have all your ideas organized, then executing your marketing plans becomes much easier.
Don't forget to download your free content idea tracker template! It's a Google spreadsheet, but you can use it in either Google sheets or Excel.
Bonus Template
Download a copy of my spreadsheet template that you can use in Excel or Google Sheets.
Related content to help you plan & organize your blog: