As a marketer, I'm always looking for effective ways to reach my audience. Evergreen advertising is one of my favorites. Like you, I'm always busy, and I need to get the most bang for my buck.
Evergreen advertising is a type of online advertising that focuses on creating ads that will stay relevant for a long time. Unlike other types of online ads, such as time-sensitive ones, evergreen ads are designed to be used over and over again. This can be a great way to improve your marketing efforts and generate more leads and sales for your business.
Evergreen marketing can be used indefinitely. That means it's not tied to a specific event or sale, and it can be used year after year. Evergreen ads are also highly versatile – they can be used on any platform and customized to fit your brand.
Best of all, evergreen ads are highly effective. Because they're not tied to a specific event, they have a longer shelf life than other types of ads. That means they can reach a wider audience over time. And because they're so versatile, evergreen ads can be tailored to your specific marketing goals.
Whether you're looking to generate leads, boost sales, or simply raise awareness for your brand, evergreen marketing can help you achieve your objectives.
In this blog post, we will discuss what evergreen advertising is and how you can use it to your advantage!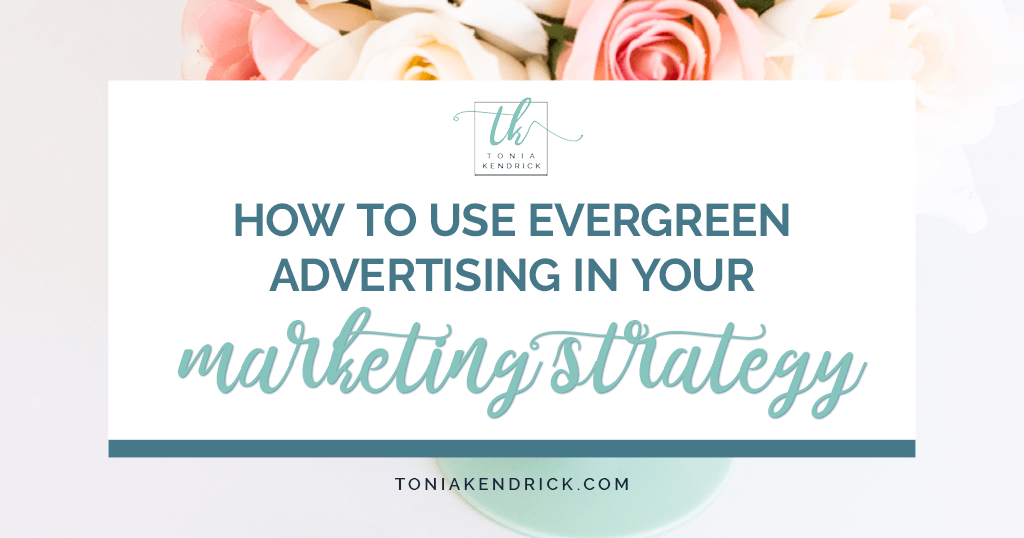 Evergreen marketing concepts
You probably know that marketing is constantly changing. What worked last year might not work this year. New technologies and platforms are constantly emerging, and companies must evolve to stay ahead of the curve.
However, some evergreen marketing concepts remain relevant regardless of the latest trends. For example, understanding your target audience is essential. You also need to create compelling content that resonates with your audience and tells them why they should care about your product or service.
And, of course, building a solid brand is key to success in any market. These are just a few principles that every marketer should keep in mind.
How can you create an evergreen ad campaign for your business?
If you want your ad campaign to be evergreen, you can do a few things.
Make sure your messaging is relevant and constant. What are the core values of your brand that will always remain the same? Those are the things you want to communicate in your ads.
Create visuals that are eye-catching and memorable. Think about what will make people take notice of your ads, whether it's bright colors, striking images, or a clever tagline.
And finally, focus on emotion. Ads that tap into our emotions are the ones we remember most, so try to evoke feelings like happiness, nostalgia, or even fear in your audience.
Make your ads relevant over time
There's no doubt that advertising can be a powerful tool for businesses. But for ads to be effective, they need to be relevant to your audience. So here are some tips for making sure your evergreen ads remain relevant over time:
Keep your target audience in mind. Who are you trying to reach with your ad? Make sure the ad speaks to them directly.
Keep your messaging on point. Make sure your ads align with your brand identity and core messaging. This will help ensure that your ads remain relevant even as your business evolves over time.
Evolve with your audience. Keep track of changing demographics and psychographics within your target audience. This will help ensure that your ads reach the right people and resonate with them personally.
By following these tips, you can ensure your ads will remain relevant and effective for years to come.
Measure the success of your evergreen advertising campaign
When it comes to evergreen advertising, you can do a few key things to measure success.
First, consider your brand awareness goals. How many people do you want to reach? How often do you want them to see your ad?
Second, take a look at your click-through rate. This will give you an idea of how many people interact with your ad.
Finally, consider your conversion rate. This is the number of people who take the desired action after seeing your ads, such as signing up for a newsletter or purchasing.
By tracking these metrics, you can get a good idea of your campaign's success.
Evergreen marketing strategies for high-converting Facebook ads
Creating high-converting Facebook ads isn't rocket science. In fact, a few tried-and-true strategies can be used to create ads that get results.
First, it's essential to have a clear and concise headline that tells readers what the ad is about.
Second, the ad should include an attractive image or video that will grab attention.
Third, the ad copy should be persuasive and provide a strong call to action.
Finally, the ad should be targeted to the right audience.
You can create Facebook ads that convert and generate leads for your business by following these simple tips.
Best practices for running evergreen campaigns
Running an evergreen marketing campaign can be a great way to keep your marketing efforts simple and easy. Here are some best practices to keep in mind:
Keep your messaging clear and concise. Evergreen campaigns should focus on core messages that can be easily understood by your target audience.
Use strong visuals. Campaigns with eye-catching visuals are more likely to grab attention and stay top-of-mind.
Test, test, test! Try out different versions of your campaign to see what works best.
Keep it flexible. As needs change, be sure to update your evergreen campaigns accordingly.
By following these best practices, you can ensure that your evergreen campaigns are a success.
How does content marketing fit into an evergreen marketing strategy?
Content marketing is a critical piece of any evergreen marketing strategy.
By creating and sharing high-quality content, you can attract attention and build trust with your audience.
This is more important than ever in today's noisy and crowded landscape. Consumers are inundated with marketing messages daily, and they are becoming increasingly skeptical of traditional advertising techniques.
Content marketing allows you to break through the clutter and establish yourself as a thought leader in your industry. By providing valuable information that solves real problems, you can earn the attention and respect of your target audience.
In addition, content marketing can help to build brand awareness and improve search engine visibility over time. It is an effective and sustainable way to reach and engage target audiences when executed correctly.
Benefits of using evergreen content marketing
Evergreen content is the gift that keeps on giving. Unlike traditional forms of advertising, which typically have a shelf life of only a few weeks or months, evergreen content can continue to generate leads and sales for years to come.
And because it doesn't rely on timing or current events, evergreen content can be an extremely effective way to reach your target audience at any time of year.
Perhaps best of all, once you've created your evergreen marketing content, it requires minimal ongoing effort. That makes it a highly cost-effective form of marketing. So if you're looking for a way to get more bang for your advertising buck, evergreen content is definitely worth considering.
How can you make your content evergreen?
Some tips for making your content evergreen include:
Focusing on topics that are relevant all year round
Writing about timeless principles or advice
Avoiding any references to current events or trends
Creating detailed guides that can be used as a reference over time
How else can you apply evergreen marketing principles?
A few other ways you can apply evergreen marketing principles include:
Email marketing
Webinars
Creating Infographics
Using case studies
Video marketing
Brand awareness campaigns
Wrapping up
Evergreen advertising is a powerful tool that can be used to generate leads and sales for your business. By creating high-quality content and targeting your ads to the right audience, you can ensure that your campaigns are a success.
So what are you waiting for? Start planning your evergreen marketing strategy today!
FAQs
What does evergreen mean in advertising?
Evergreen advertising refers to ads that are not tied to a specific time or event. These ads can be run at any time and are not reliant on current events or trends.
What are some examples of evergreen content?
Examples of evergreen content include how-to guides, listicles, tips and tricks articles, and product reviews. This type of content is typically stable and can be relevant for years to come.
What is evergreen in digital marketing?
Evergreen digital marketing refers to online marketing strategies that can be used at any time, regardless of current trends or events. These strategies are focused on long-term results and can be a great way to build sustainable growth for your business.
What is an evergreen campaign?
An evergreen campaign is an advertising or marketing campaign that can be run at any time without being tied to a specific event or date. Evergreen campaigns typically focus on core messages that are relevant all year round. They are a great way to reach your target audience.
What is an example of evergreen content?
An example of evergreen content would be an article on how to make a perfect cup of coffee. This type of content is relevant all year round and can be used as a reference for years to come.
What is evergreen social media content?
Evergreen social media content is content that can be posted at any time and is not tied to a specific event or trend.
Where can I find evergreen content topics?
There are a few ways you can find evergreen content topics. One way is to think about topics that are relevant all year round. Another way is to look for articles that have been popular for years and continue to be shared regularly. Finally, you can also try searching for timeless principles or advice that can be applied to any situation.
What is the difference between evergreen and seasonal content?
The main difference is the time frame in which they are relevant. Evergreen content is relevant all year round, whereas seasonal content is only relevant for a specific time of year. It's timely content that may be tied to holidays, specific events, or changes in the weather.
Want to remember this? Save Evergreen Advertising to your favorite Pinterest Board.
More marketing posts that you might love:
Social Media Strategy Guide
Grab your free Social Media Strategy Getting Started Guide!