I love planners and planning. There's just something about creating a plan that makes it feel like everything is coming together. It's like creating order out of chaos.
And I love helping others with their plans (it's one of my superpowers).
So, with that in mind, I decided to pull together all my best free planners for bloggers and solopreneurs into one spot and highlight each one.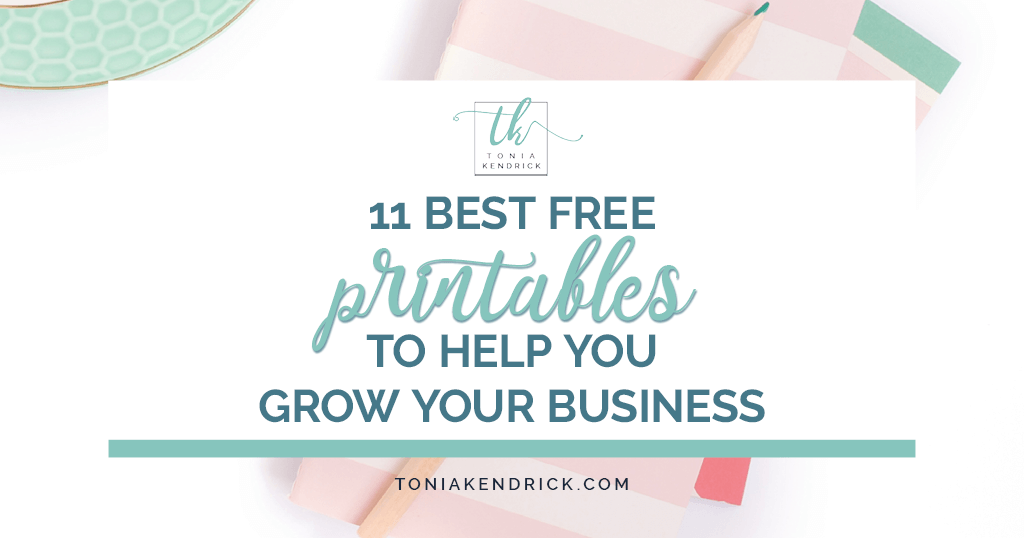 What is a blog / business planner?
My definition of a planner is something that helps you get information out of your head (and all the other places it may be hiding). You can then organize the information into a format that will be useful to you going forward. This post includes planners that will help you with:
Big picture business planning
90-day business planning
Blog & content planning
Social media
Time management
Project planning
What are the benefits of using a planner?
A planner helps you focus on a particular aspect of your business. Do you need to create a 90-day plan for your business? Or maybe it's time to create a social media strategy? Or do you want to get a handle on how you spend your days?
Using a planner will guide you through the process of creating your plan. Then it will help you stay focused and organized so that you achieve the results you want.
11 best free planners for bloggers and solopreneurs
So without further ado, here are my best free planners for bloggers and solopreneurs. Take a look at all of them or just pick one that targets an area you are struggling with right now.
Planners to help you keep your eye on the big picture
A guided process can be especially helpful when it comes to working on the big picture of your business. So, often we get caught up in the day-to-day work that we can lose sight of the forest for the trees. These planners will help you take a step back and make sure that you are focused on the right things.
Define Your Business & Blogging Niche
An important step in building a successful blog or business is finding your focus. This workbook has exercises that will help you define the perfect niche for your blog or business. You'll get clear about your focus. And you'll refine a niche that is right for you and that's viable in the marketplace.
FREE: Define Your Business and Blogging Niche Workbook!
Download a free printable copy of my free workbook to help you define your business and blogging niche!
Vision + Mission Workbook
Your vision statement and mission statement set a strong foundation for your business. They help you attract the right type of clients and keep your business focused on the right path. This workbook will help you craft a powerful vision statement and mission statement for your business.
FREE: Vision + Mission Workbook
This free workbook will help you craft a powerful vision statement and mission statement for your business.
Make continuous forward movement with 90-day plans
I'm a big proponent of 90-day business plans. Working in consecutive 90-day cycles sets you up for huge success in your business. It enables you to stay focused while still making significant progress toward your goals.
90-Day Goal & Action Planner
Ready to create a 90-day action plan for your business? This planner has prompts to help you reflect on the prior 90 days, set business goals that you can achieve, and put your plan into action.
GRAB YOUR 90-DAY GOAL & ACTION PLANNER
Set your business goals for the next 90 days, create a plan, and put it into action.
Blog planners to help you stay targeted and organized
The resources in this section will help you target the right audience and organize your content ideas.
Create Your Awesome About Page
This free printable guide has tips and tricks that will help you craft a powerful About page. You'll attract your target audience and then take them down the path you create.
Free Workbook!
Create your own awesome about page with the tips and tricks in this free printable guide!
Content Idea Spreadsheet
Do you need a way to organize all your content ideas for your blog and business? This spreadsheet template is a blog topic planner that will help you keep up with all your ideas and map them to your editorial calendar.
Bonus Template
Download a copy of my spreadsheet template that you can use in Excel or Google Sheets.
Planners to help you make the most of your time on social media
Social media marketing has a lot of moving parts and it can eat up a lot of your time. These resources will help you ensure that you are making the most of the time you spend on social media.
Social Media Strategy Guide
Having a solid social media strategy is essential for every solopreneur business. This social media strategy guide will help you get started.
Social Media Strategy Guide
Grab your free Social Media Strategy Getting Started Guide!
Social Media Simplification Planner
With all those moving parts, your social media marketing strategy may have gotten too complicated. If you're feeling overwhelmed, grab this planner. You'll create a simplified strategy that you can actually execute.
Free Social Media Simplification Planner
Grab this free planner and create a simplified social media strategy that you can actually execute.
Social Media Tools Cheat Sheet
This cheat sheet is a handy reference guide to a variety of social media automation tools that can help you execute your marketing strategy.
Free Cheat Sheet
Grab this free Social Media Automation Tools Comparison Chart.
Pin-Worthy Images – Step-by-Step Workbook
If you are trying to drive traffic to your business with Pinterest, then pin-worthy images are a must. This step-by-step workbook will help you create a plan to optimize your pins.
Free Workbook!
Grab your free Pin-Worthy Images workbook.
Stay focused with these time and project management planners
No discussion of business planning is complete with touching on time management. How are you going to do all the things you want to do?
Time Blocking Template
Time blocking is my all-time favorite time management strategy. Download this spreadsheet template and start time blocking your schedule. You'll stay focused on your priorities and get a ton of stuff done.
BONUS TEMPLATE
Grab a copy of my free time blocking spreadsheet!
Project Planning
If you plan your projects before diving into action, you'll be more organized and stay focused on what you want to achieve. This Project Plan checklist will help ensure that you hit all the bases in your project planning.
Free Project Plan Checklist
Wrapping up
As I said at the beginning, planners will help you organize information that's in your head or hiding in your computer, in notebooks, or even on post-it notes.
Whether you want to work on big-picture action items, keep up with your content, improve your social media strategy, or finally get a handle on your time, planning can help you do that.
These free business printables and templates could be just the ticket to kick start your next growth phase. So why not download a planner or two and get started today?
Want to remember this? Save 11 Best Free Business Printables to your favorite Pinterest Board.
Related planning posts: