Do your days ever get away from you?
Do you ever reach the end of the day and think "what the heck did I do all day?"
Do you sometimes feel like you are drifting from one crisis to the next and don't have time to focus on your own priorities?
If the answer to any of those questions is yes, then read on. This post will give you 7 tips for planning your day. Use these tips to prioritize and then create a plan to keep your day (and life) from running away from you.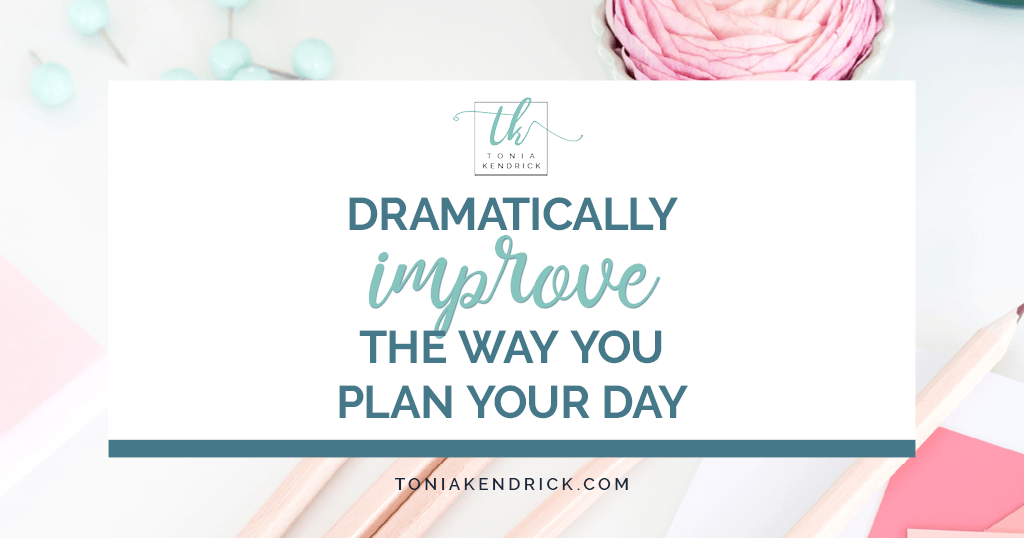 This post contains affiliate links, which means I receive a small commission if you make a purchase using this link. For more information, see my full disclaimer here.
1. Write out your plan every day
My most important tip for how to plan your day is to actually write out your plan. Writing our your day plan is a good time management practice. And yes, that means every, single day.
The key is to take the time to put down what you want to get done today.
What are your priorities? Is there a deadline coming up?
Make a list of the important things that you need to get done. The act of writing your plan clears out your brain, so that it isn't tied up trying to remember what you want to do. It doesn't matter if you do this in digital format using something like Asana project management software or on paper.
The key to success is to use what works for you. I use both Asana and paper.
I brainstorm (see tip #3) on my iPad, then I write my final list on paper. I find that a daily to-do list on paper keeps me accountable to myself. It's too easy to forget about a list that is hidden away in a device. I have a Daily Plan sheet, divided up into categories, with handy-dandy checkboxes. I LOVE to check off those checkboxes.
2. Plan at the same time every day
When you do your planning at the same time of day, you create a habit. And good habits have the power to keep you on track.
You can plan your day the night before or in the morning. I prefer to do my planning in the morning after I've had at least one cup of coffee and my brain is somewhat functional. One reason that I prefer morning planning is that often I will think of things to do during the night. If I've already written out my plan, then I have to figure out what to take off, so that there is room for the new item.
Evening or morning doesn't really matter. Again, it's what works for you.
Related Post
I decided to pull together all my best free planners for bloggers and solopreneurs into one spot.
3. Brainstorm a quick to-do list
Include everything you need to do, want to do, could do. Do you have deadlines coming up? Think about who you need to call or email. What errands do you need to run today? Is there anything from yesterday's plan that didn't get accomplished? Review your weekly plan if you have one (and I hope you do).
Everything you come up with during brainstorming may not make it onto your final plan for the day. But this way, you minimize the chance that something will sneak up on you. Be sure to review your calendar for appointments – not only for today but for the next few days. I hate making a daily plan, then realizing later that I have a meeting the next day that requires several hours of preparation.
4. Divide your task list between Work and Life
It's too easy to let work tasks take over and to let your life tasks get pushed aside. I recently revised my Daily Plan sheet with headings for Work and Life. I did this for two reasons:
So that I can easily see what I want to do in each area. This helps me group items together in time slots, if necessary. For example, when I worked in an office, I needed to do most of the Life items in the evenings.
So that I keep my business and personal life balanced. I have the same number of lines under Life as I do under Work. And I fill them both up every day.
5. Identify two things that MUST be done today
Choose one item from your Work list and one item from your Life list that are your must-dos. These don't have to be your most difficult tasks or the ones that will take the longest to complete. They are the two items that are most important in helping you achieve your long-term goals. The ones that will really move the needle.
Tackle them first (or in your first time block for that area – Work or Life). This way, even if your day gets derailed, you know that the most important tasks were accomplished. For example, my most important Work task for today is writing this blog post, so I'm doing that first (after planning my day, of course).
6. Include some quick tasks
Not everything in your daily plan has to be a big project. Just because something will only take 10 or 15 minutes to complete, doesn't mean that it shouldn't go on your list. I have 10 to-do lines on my Daily Plan sheet. If I only put "big" tasks in my plan, then it would be really hard to get everything done in a day.
I mentioned earlier that I love checking off checkboxes. It's very satisfying to look back at the end of the day and see all (or almost all) of the boxes checked off. Including quick tasks makes it more likely that you will be able to accomplish everything on your list. And really, is the amount of time something takes to do the measure of its importance? I don't think so.
Quick tasks are also great for low-energy times of day. When you are running out of steam, it's great to be able to pick something that won't take much time or energy to complete.
Another advantage to adding a few quick items to your list is that if you find yourself procrastinating, you can knock out a few of these smaller things and get back on task.
7. Refer back to your list often
Another effective time management practice is to refer back to your list often. This comes down to getting organized. Keep your list in a place where you can easily refer back to it throughout the day. This might be in an to do list app on your smartphone, in a notebook that you keep on your desk, in a planner, or someplace else where it will be top of mind.
I use a Filofax, which sits on the corner of my desk, open to my Daily Plan. When I complete a task, I check it off, and I can easily see the other items I have planned for the day. It makes it very easy to choose the next item to work on and I don't have to rack my brain to remember what I wanted to accomplish.
My favorite daily planning tips
These are my favorite daily planning tips. Using them is how I make sure that my days stay on plan.
If day planning is something that you struggle with, then pick one or two of these productivity tips to try. I promise you will be able to take control of your day.
And, to make it simple, I'm giving you a copy of my Daily Plan sheet. It's sized to fit in an A5 or Classic-style planner. Simply click below to download your free copy!
More posts on planning and time management that you may find helpful:
Want to remember this? Save How to Plan Your Day to your favorite Pinterest board.