As a small business owner, there is always something that needs to be done. Manage small business finances? That's an easy one to put off for another day. And that's how chaos happens. These seven easy tips will help you manage your small business finances and stay organized.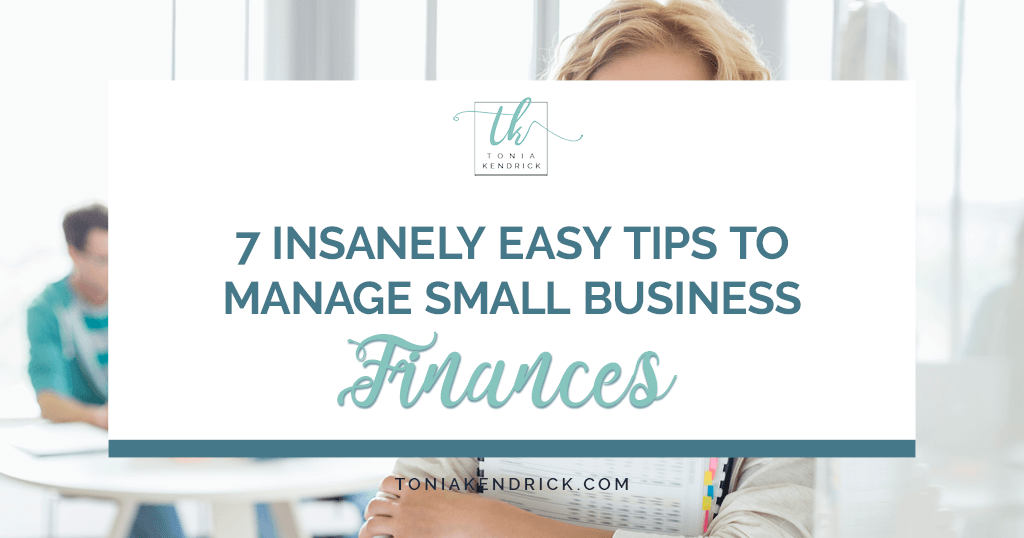 This post contains affiliate links, which means I receive a small commission if you make a purchase using this link. For more information, see my full disclaimer here.
1. Set up separate personal and business banking accounts
I can't stress this strongly enough. If you commingle your funds, then it will be a disaster come tax time. Open a business checking account and another account for short-term savings (a savings or money market account).
You shouldn't have any business transactions flowing through your personal accounts and you shouldn't have any personal transactions flowing through your business accounts. This is a requirement if your business is organized as an LLC or corporation, but you really need to do it if even if you are a sole proprietor.
It's much easier to manage your small business finances if you aren't trying to dig data out of your personal accounts.
2. Set aside money for taxes
This is what the short-term savings account mentioned in tip #1 is for. Each month you or your accountant should calculate your earnings before interest and taxes (EBIT). This is simply your revenue for the month, less your operating expenses. Multiply EBIT by 25% to 30% and move that amount into your business savings or money market account.
This amount should be sufficient to cover state and local income taxes, as well as self-employment taxes (however, your amount may vary, so be sure to check with your tax advisor). By setting money aside on a monthly basis, you ensure that you have cash on hand to make quarterly tax payments.
3. Get a business credit card or small business line of credit
When I was a banker, we always encouraged our small business customers to establish a credit line before they needed it. You never know when you will need help with cash flow. It's much easier to establish credit now. Remember, you don't have to use that credit card or credit line until you need it.
4. Set up a filing system
Wondering how to organize your small business filing system? Whether you choose to go with a paper or digital filing system, here are some of the items you should keep:
Accounting and bookkeeping records
Bank statements
Contracts
Permits & licenses
Employee / Outsourcing records
Vendor records
Tax papers
If you choose to keep paper records, then consider buying a filing cabinet or pretty file box.
For digital filing, I recommend Evernote. You can set up a notebook for all your business finances and then use tags to organize the various types of records
Separate your records by year. In Evernote, this is as easy as adding a year tag to the note.
5. Use an accounting program
Sure you could keep everything in a spreadsheet, but that might get unwieldy. There are a lot of free and low-cost accounting programs available and they will save you headaches down the road. QuickBooks, Wave, Zoho Books, Xero, and FreshBooks are a few examples of the best apps for small business owners.
Before you decide on an accounting program, think about the needs of your business. Some things to consider include:
Do you need to send invoices?
What level of income & expense tracking do you need? How granular do you want to get?
What kind of financial reports are available?
Do you have clients that you need to track? What about vendors?
Do you have employees? Is payroll processing supported?
Do you need mobile access? What about multiple users?
Can your credit card processing be integrated?
What about integrating 3rd-party e-commerce platforms?
Do you have inventory to manage?
Does it interface with your bank?
Does it provide enough bells and whistles or too many? What is the learning curve?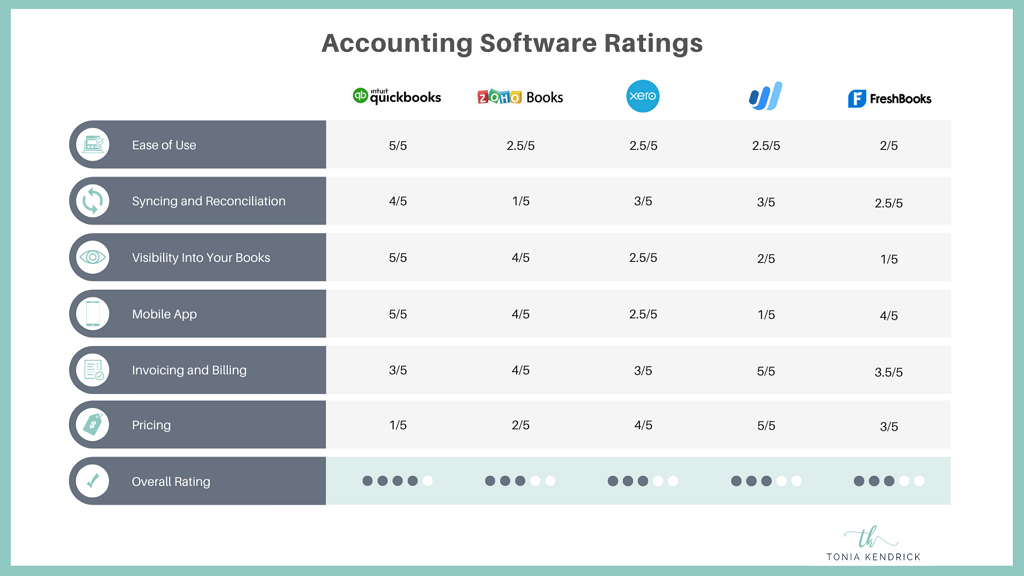 My friends over at Crazy Egg did a comprehensive analysis of several popular accounting software programs. They ranked them on six key aspects like ease of use, syncing, etc. You can see a summary of their findings in the chart above. For all the details, check out their full review here.
6. Take advantage of mobile apps
As a small business owner, you have a lot going on. Mobile apps make it easy to organize various aspects of your finances.
Receipts by Wave. If you choose Wave as your accounting program, their Receipts by Wave app will help you stay on top of your receipts, so that they don't end up crumpled in the bottom of your purse (or does that only happen to me?) Simply snap a photo with your iPhone and send the receipt to your Wave account. It will be automatically turned into an accounting transaction.
MileIQ. Oh, how I wish I had had this app when I worked in the corporate world (I drove a lot of miles). It automatically captures every mile you drive and you swipe to indicate if the mileage was personal or business.
Expensify. Expensify also lets you scan receipts with your phone and track mileage. Additionally, you can log billable hours. And it integrates with both QuickBooks and Xero.
7. Schedule time to stay organized
Set aside time each week or month to keep your finances organized. Depending on your situation, this may include adding data to your financial software, scanning receipts, filing, reviewing financial reports, paying bills, invoicing, collections, etc. Put it on your calendar and treat it like a priority.
A lot of people recommend setting aside 15 to 60 minutes per week. I prefer to batch process finances, so I set aside half a day once a month to update business records and personal records, review my investment portfolio, etc. I think it's easier to get into the financial mindset and just plow through. And then I reward myself with a latte. : )
Business organization strategies are essential if you want to keep your finances in order. Without a system in place, you don't know if your business is profitable (and nobody wants that). Plus, it will help you avoid headaches at tax time. The tips outlined here will help you stay on top of your small business finances and establish a system that works for you.
Want to remember this? Save 7 Insanely Easy Tips to Manage Small Business Finances to your favorite Pinterest Board.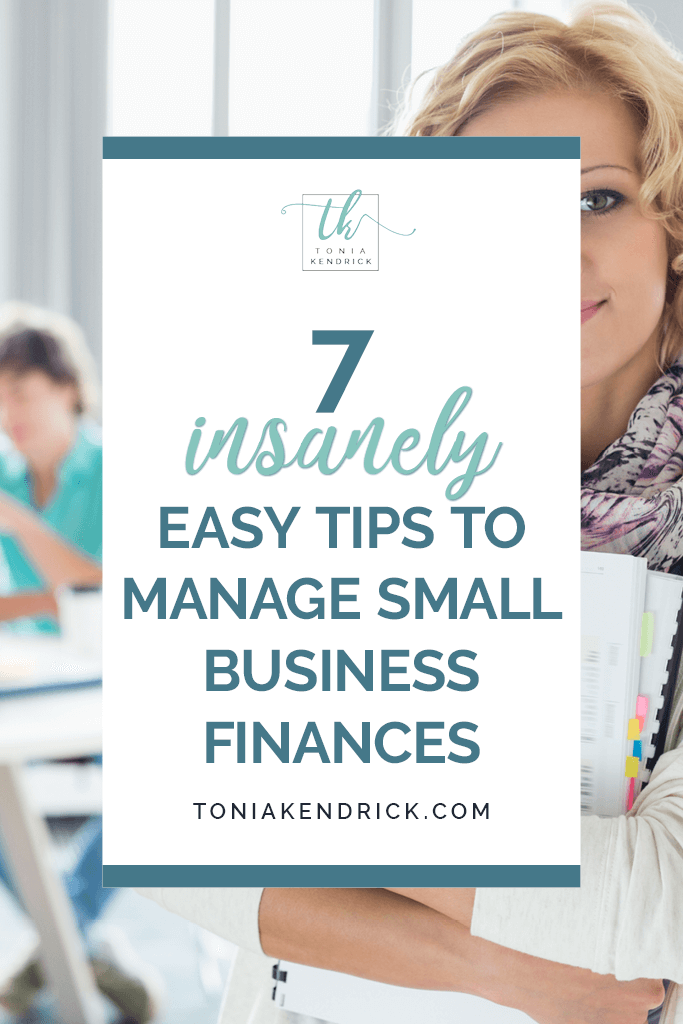 Don't forget to download your free profit & loss spreadsheet!
Related finance & business posts: