NEW RELEASE
Find Your Focus Bootcamp
Are you tired of feeling overwhelmed and unfocused? Do you find yourself easily distracted and struggling to accomplish your goals? Introducing the Find Your Focus Bootcamp, an 8-lesson video course designed to help you improve your focus and productivity.

With step-by-step guidance, worksheets, checklists, and an implementation plan, this bootcamp equips you with the tools you need to regain control of your time and achieve your full potential.
MEMBERSHIP
Organized Business Toolbox
New templates and systems every month that help you stay organized so that you feel more in control of your business.
Ultimate Business Budget Toolkit
The Ultimate Business Budget Toolkit is for solo entrepreneurs who want to stop stressing about money, avoid overspending and falling into debt, and increase profits for their businesses.

It's your easy-to-use secret weapon for managing finances, saving time, and making smart decisions for a more profitable and financially stable business.
Be a Goal Getter
Imagine a world where you make consistent forward progress quarter after quarter. In Be a Goal Getter: 2023 Productivity Workbook and 90-Day Business Planner. I've pulled together all my best tips and tricks and processes into one place so that you can use them to create an actionable plan for your own business.
Finance Dashboard
Looking to take control of your business finances? The Finance Dashboard is the perfect solution! This easy-to-use system makes it simple to keep track of your money and make smart decisions about your business. With the Finance Dashboard, you'll have a clear overview of your expenses, income, and financial status.
90-Day Planning Bootcamp
Do you struggle with finding enough hours in the day or feeling overwhelmed with your to-do list? As a small business owner, it's tough to focus on the right things. That's why I created 90-Day Planning Bootcamp! This online course will teach you how to create and execute a 90-day plan to achieve your goals. Say goodbye to feeling burnt out, and hello to success.
Automation & Systems Bootcamp
Do you want to run a successful business without having to do all the work yourself? The secret is using automation and systems to free up your time and energy. This course will help you free up your time to do more of the things you love by teaching you how to leverage the power of automation and systems in your business.
Time Blocking Toolkit
If you're feeling overwhelmed and like you can't get a minute to yourself, the Time Blocking Toolkit is for you. It's a complete system that will help you find the time to get the most important things done. With step-by-step instructions, worksheets, and templates, you'll be able to create a schedule that works for you.
Email Marketing Toolkit
Looking to get the most out of your email marketing? The Email Marketing Toolkit has everything you need to create a winning strategy. With brainstorming tools, planning templates, execution checklists, and more, you'll be able to put together an effective plan and execute it like a pro.
Biz Boost Workbook
The Biz Boost Workbook will help you work smarter in your small business so that you make more money. Use this workbook to determine exactly where to focus your time and energy to have the most impact.
Content Planning Toolkit
If you dream of publishing great content consistently but feel overwhelmed and don't know where to start, the Content Planning Toolkit is your answer! This complete system takes all the guesswork out of creating a plan that's doable for you. You'll get step-by-step guidance to help you map out your content ideas, plus tools and resources to keep you on track.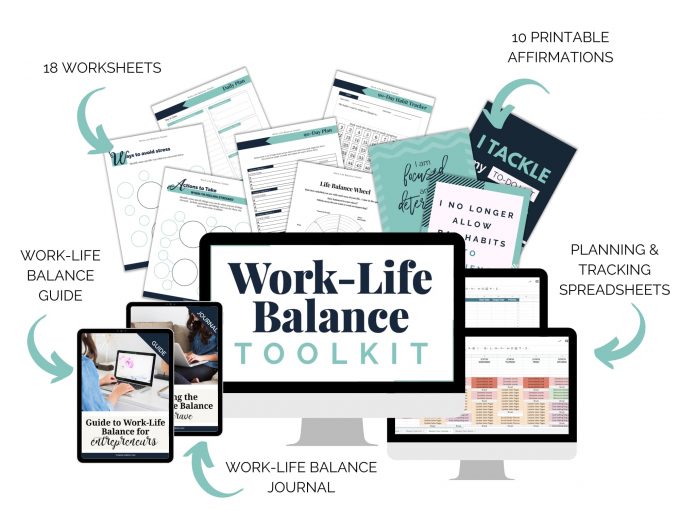 Work-Life Balance Toolkit
The Work-Life Balance Toolkit is your go-to resource for creating more balance between your work life and personal life. Featuring helpful guides, checklists, and templates, this toolkit will help you design a work-life balance that works for you. Whether you're struggling to find time for yourself or trying to manage a hectic work schedule, the Work-Life Balance Toolkit has something for everyone.
Social Media Strategy Workbook
Do you struggle with how to promote your small business on social media effectively? This workbook is your step-by-step guide to creating your social media strategy and plan.
Content Multiplier
Content Multiplier is your ticket to content freedom! With this program, you'll learn how to take your great content and turn it into multiple pieces that you can use in different ways. So instead of starting from scratch every time, you can reuse, remix, and repurpose your old work to save time and keep your audience engaged. Sign up now and stop struggling with content creation!
Finish Strong Toolkit
The Finish Strong Toolkit is the perfect way to get back on track with your most important goal. This comprehensive kit includes everything you need to focus on the actions that will help you achieve your goal, create and execute a 90-day plan, and take advantage of all the revenue-generating opportunities available in the fourth quarter. With easy-to-follow instructions and resources to help you every step of the way, the Finish Strong Toolkit is an essential tool for anyone looking to end the year on a high note.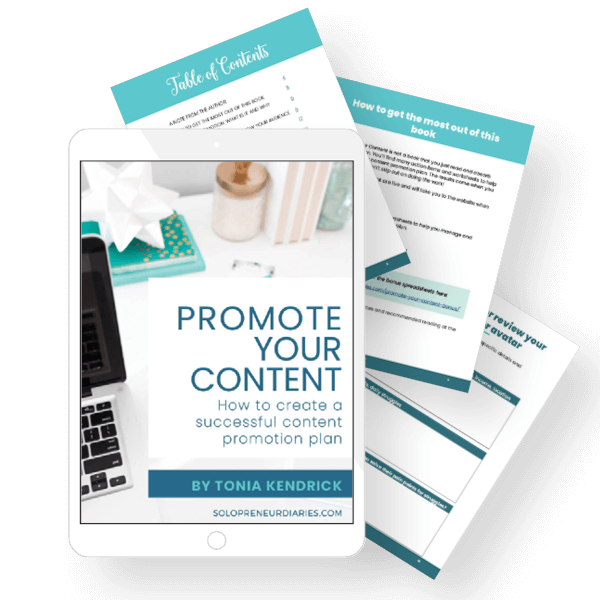 Promote Your Content
Wouldn't it be amazing if you could easily get more mileage out of all the content you create? Most solopreneurs spend more time creating content than promoting it. When, in reality, you should flip that and spend more time on promotion than content creation.

A content promotion strategy and plan will help you consistently promote all your content – not just your blog posts – efficiently and effectively. Promote Your Content will help you create, execute, and manage your own successful content promotion plan.
Client Communication Toolkit
The Client Communication Toolkit is a set of email templates that helps you quickly write and respond to business emails without struggling to find the right words to use for different situations. These templates are easy to use and help to save time.

Your life will be so much easier when you have the right words to say in every email situation.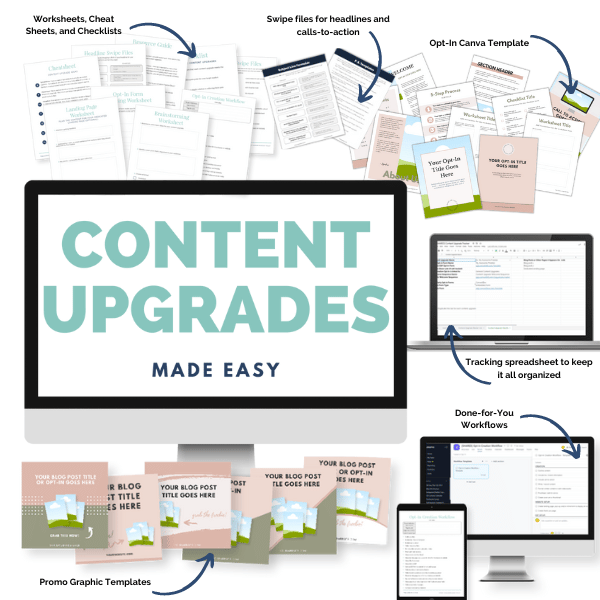 Content Upgrades Made Easy
All the resources you need to quickly and easily craft high-quality content upgrades tailored for your audience. It also comes with detailed guides to help you brainstorm optimal content, and promote it through your website, social media, and more. Plus, get an array of organizing tools so that you can stay organized while creating these amazing upgrades.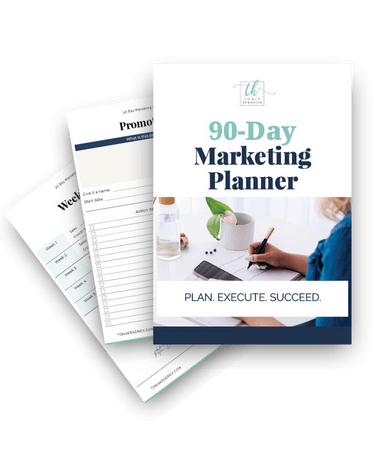 90-Day Marketing Planner
Are you an overwhelmed entrepreneur in need of a plan of action to stay on track with your marketing goals? Check out this 90-Day Marketing Planner—it will help simplify and organize your marketing efforts so you can focus on growing your business!
Break Out of Your Comfort Zone
Are you feeling trapped by the limiting beliefs that come with staying in your comfort zone as a business owner?

This workbook will help you gain self-awareness, get clarity on your goals, and increase your confidence.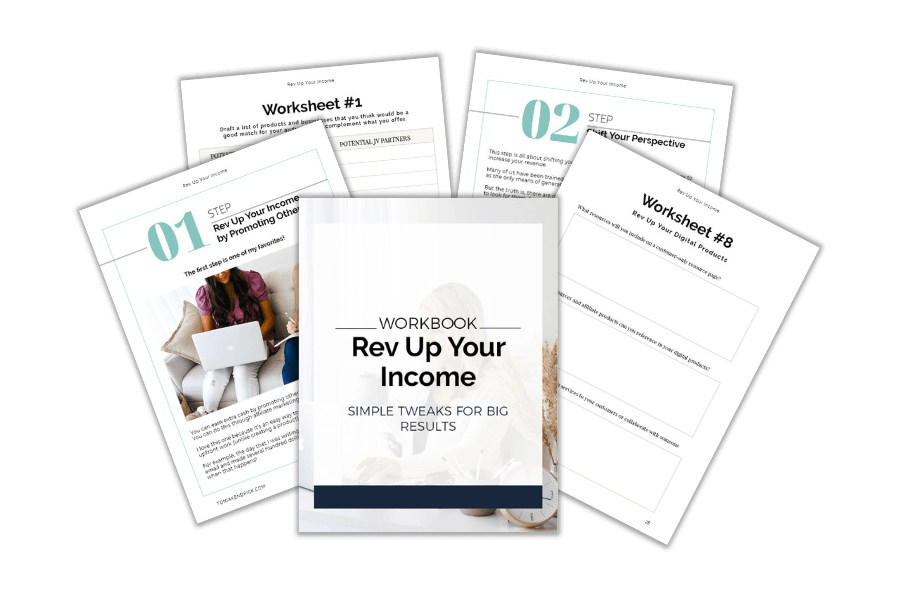 Rev Up Your Income
Looking for something that can help you increase your income without all the hassle?

This workbook is packed with tools and strategies that will get you on the road to reaching your income goals.

Spring Clean Your Biz Toolkit
Need a fresh start for your business? This toolkit will help you clear out the cobwebs and make your business work better for you. It includes tools to help you analyze and declutter your office space, let go of things that don't fit your business, and declutter your email inbox. Time to get started on a clutter-free future! And you can do this anytime – it doesn't have to be Spring!