I'll let you in a little secret. Having systems and processes in place helps improve your business productivity. Small business processes make it possible to get a lot done because you aren't constantly reinventing the wheel.
When I started my business, I didn't have any documented small business processes because the business was brand new. And everything I did was SO HARD.
Writing a blog post started with staring at a blank screen.
Starting a new project meant sitting down and thinking "ok, what do I need to do?"
Figuring out what to share on social media was a constant time-suck.
All because I didn't have systems and processes in place.
Once I started documenting my systems and processes and creating templates, everything became so much easier. I became more productive and less stressed because I (almost) always have a starting place. I never have to stare at a blank screen again and I'm not reinventing the wheel every time I start a project.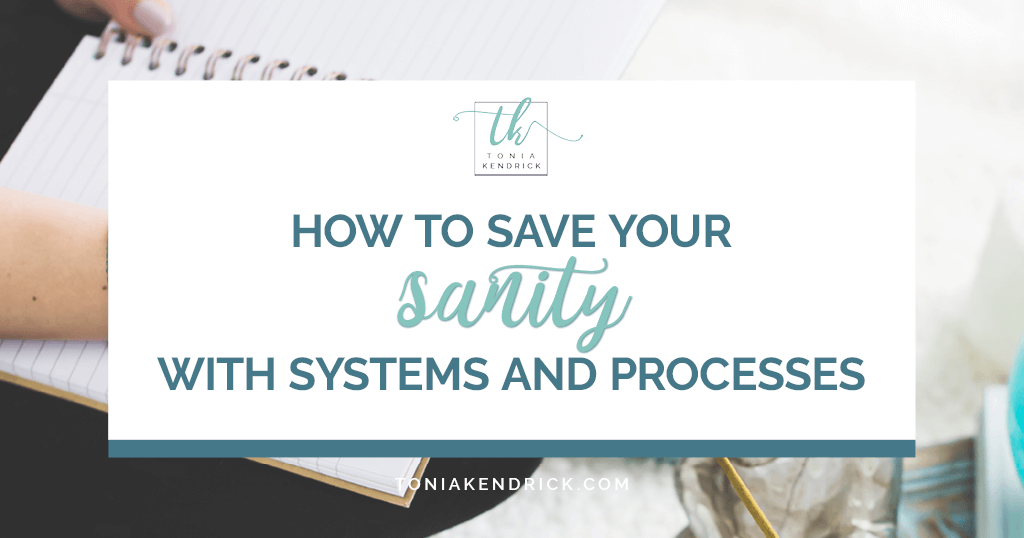 This post contains affiliate links, which means I receive a small commission if you make a purchase using this link. For more information, see my full disclaimer here.
How to create systems and processes
First, a word of caution. Don't drive yourself crazy by trying to create all your processes and systems at once. There's an easier way.
Start by identifying your core business processes. Then the next time you start to do something critical for your business, take a moment to grab a piece of paper or open a separate document on your computer. As you perform the task, make a list of every step that you take. Afterward, review the steps. Is there a better way to do this task? Should the steps be in a different order?
When I was documenting my process for writing blog posts, I realized that I wasted time going in and out of WordPress. So I grouped all the WordPress tasks together and my workflow is more efficient.
I also moved graphics creation to an earlier place in the process and made several other tweaks. Now, when I write a blog post, I don't have to think about what to do next. I simply follow the steps in the process.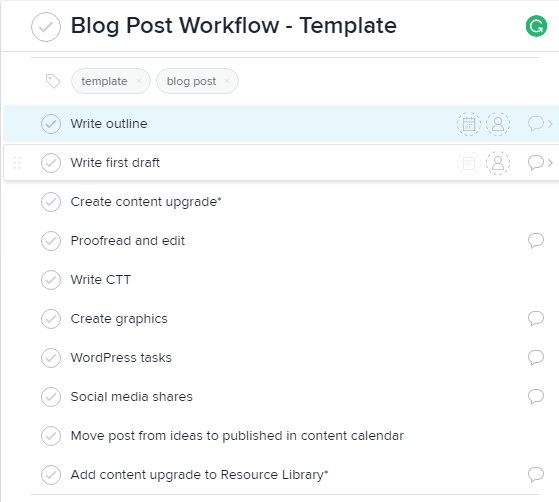 So, let's take a look at some simple business process examples that you may want to implement in your own entrepreneur business.
Set up systems for product creation
Your systems for creating products will depend on what your products are and how you deliver them. Depending on the complexity of your products, you may need many checklists to form your system. You may want to create checklists for:
Topic research
Creating an outline
Writing or recording an info-product
Editing and formatting
Uploading the product to your sales platform
Creating sales pages and download pages
Creating marketing materials
Make content creation easier with templates and calendars
A key part of your content creation system should be templates and calendars. They will make your life so much easier.
Spend some time each month creating an editorial calendar for your blog. Decide how often you want to publish blog posts and what topics you will cover. Once your editorial calendar is in place, you'll never sit down at your computer and wonder what to write about.
Having templates in place is also helpful. Look at the content you create on a regular basis and make templates for each type. For example, I have templates for blog posts, newsletters, e-books, and worksheets. Most of the formatting is taken care of and I can start by filling in sections, rather than staring at a blank screen.
Use systems to stay out of the social media black hole
A system is essential to keep from being sucked into the social media black hole.
Decide how often you want to post on which platforms and during what times.
How much of your own content will you share vs. curating other people's posts?
When will you ask questions or offer helpful tips?
When and how will you engage with others?
Systems allow you to batch content and get ahead of your schedule. By planning what you're sharing in advance, you'll get the work done faster.
A system to batch graphics is easy to set up and will make your workflow more efficient.
Create templates for your social media graphics. Have a standard style for each platform and create templates using your brand colors and fonts. You'll find that you create graphics much faster when you only have to drop in a photo and change the text.
You'll also want to use a post-management app like Hootsuite or Tailwind. This will let you schedule your posts to go out at the right time for your market.
Must-have systems: Website maintenance and security
Here's a biggie. How are you keeping your site safe and secure? If you're using WordPress, you want to make sure it's updated regularly (including your plug-ins!). Daily backups are also a must.
I use the free Updraft plug-in to back up my site daily and it automatically sends the backup to my Dropbox account. I can't tell you how many times I've had to restore my website and have been so thankful to have that daily backup.
Automate your sales funnels with email marketing systems
Do you ever wish you could hire a team of savvy sales people to stay in touch with your prospective customers and encourage them to buy? Setting up an email autoresponder system is like having an automated sales force that keeps your products and services in front of your leads.
An autoresponder is a sequence of emails that goes out on a pre-determined schedule. The emails are written to engage your audience and pull readers further into your funnel. An autoresponder sequence will typically have 5 to 7 emails and should have a combination of high-value content and specific calls-to-action.
ConvertKit makes it super-easy to set up an auto-responder sequence and even gives you prompts on how to mix up your educational content with offers for your products and services.
Pull it all together in a company operations manual
Once you start creating systems, processes, and templates, you'll want to keep them all organized. A company operations manual is a place where you organize all the reference material you need to keep your business running.
You may think you don't need an operations manual if you are a solopreneur with no team. Trust me on this. You'll get more done faster when you are not looking all over the place for your systems documentation.
You can keep your company operations manual in Evernote, One Note, Google Keep, Google Drive, Asana, Trello, on a private Google Site, or even on paper. If you use more than one platform, then make sure you set up one central reference point that has links to all the other relevant documentation.
For example, all my process checklists are stored in Asana as templates, so that I can copy them each time I repeat a process. My content templates are created in Microsoft Word and stored in Dropbox. But my Operations Manual is in Evernote and includes links to everything.
In addition to your systems, processes, and templates, your operations manual should also include:
Domain names that you own, along with renewal dates
Web hosting data
Subscriptions
Legal information (licenses, permits, etc.)
Client contact info
Contracts
Style guide
Financial information (bank accounts, credit cards, etc.)
Anything else necessary to running your business
Having systems and processes in place helps you run your business more productively. You'll set yourself up for success and avoid burnout.
As an added bonus, once you have a system in place, it becomes much easier to outsource that part of your business to a Virtual Assistant. As your business grows and there's more work that you can accomplish in a day, you'll be glad that you are one step closer to outsourcing.
Need help getting started?
If you need help getting started or you want to leverage already-proven systems in your business, then I highly recommend 6-Figure Systems. Each month you get a complete done-for-you marketing plan with checklists detailing each step of the process. Plus, you get twice-monthly training, so that you'll understand exactly how to implement the system in your own business.
Some of the past monthly systems have been about content creation, affiliate marketing, email marketing, and launching. They are all super-helpful and I really look forward to receiving each new monthly marketing plan.
Want to remember this? Save Systems and Processes to your favorite Pinterest Board.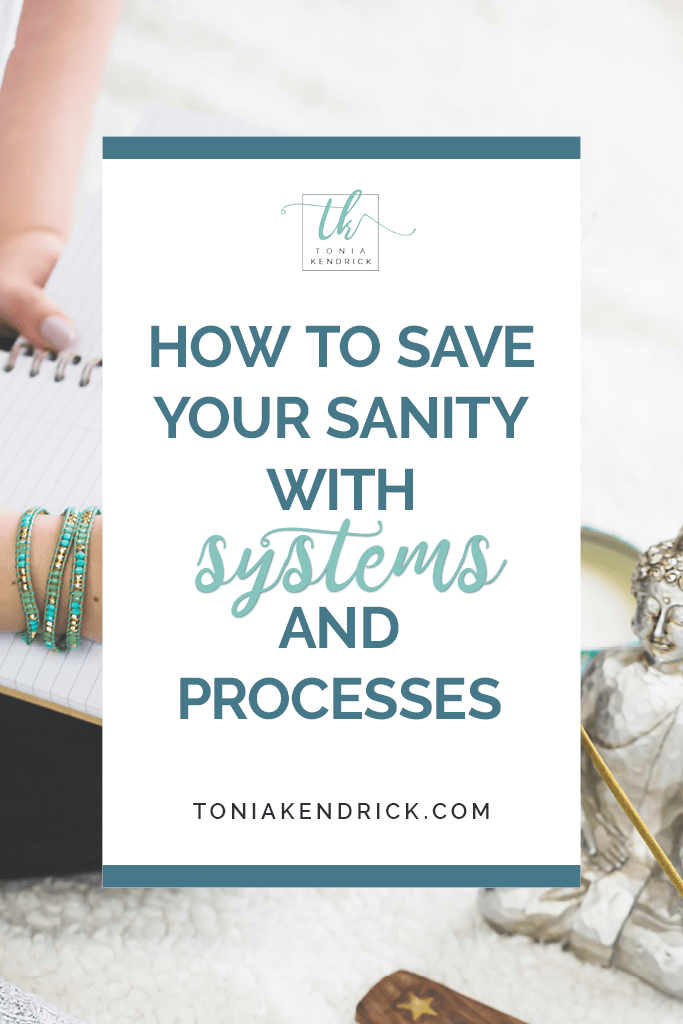 You may also find these articles helpful:
FREE Biz Planning Workbook
Download your free printable Business Planning Workbook for solopreneurs. Set your goals. Make your plans. Stay focused!