Are you a small business owner who needs to get more done in less time? Do you need to improve productivity so that you can concentrate on growing your business?
If you are anything like me, there are many people and dozens (if not hundreds!) of projects begging for your time and attention. Staying focused on the right things is a constant battle.
For me, organization is a key factor in being productive, so I've pulled together my best small business productivity posts on this page, all nice and tidy. Enjoy!
You will be much more productive if you stay organized
Whether it's your finances, your content, or your business processes, you will be much more productive if you stay organized. Knowing exactly where everything is keeps you from becoming overwhelmed and ensures that your small business runs smoothly.
Here are some tips on how to keep it all together:
Plan your work and work your plan
"Plan your work and work your plan." There's a reason that this is a popular saying. Planning works.
Here are five of my favorite posts to help you plan in your small business.
Gain control over your time
Are you busy or productive? They are not necessarily the same thing. To be truly productive, you need to shift your focus from activities to results.
Here is some of my best advice on gaining control over your time.
Small business productivity tools
No discussion of productivity tips for small business owners would be complete without considering tools.
Here are a few posts about the tools I use every day to increase productivity.
Advanced Productivity Resources
Are you ready to dive deeper into leveling up your small business productivity? If you are a DIY learner, then these e-courses and e-books may be right up your alley.
Want to remember this?  Save 24 Best Ways to Improve Your Small Business Productivity to your favorite Pinterest Board.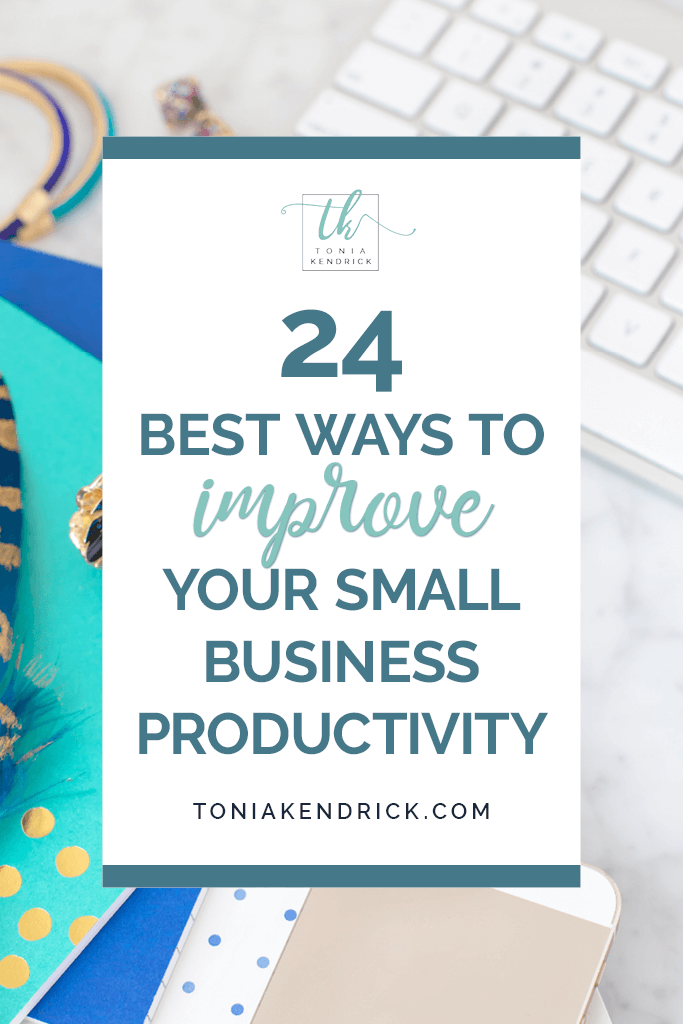 BONUS TEMPLATE
Grab a copy of my free time blocking spreadsheet!