Social media marketing strategies can get way over-complicated. There's always so much to do and so little time to do it in. However, there are ways to keep it simple.
Here are 10 tips that will help you save time and be more efficient, while still accomplishing your social media marketing goals.
This post contains affiliate links, which means I receive a small commission if you make a purchase using this link. For more information, see my full disclaimer here.
Make sure that you know your niche
Do niche research to learn the interests, pain points, problems, and spending limits of "your people." Find out where they spend their leisure time online and target those sites. It's unproductive to spend all your time on a social network if your ideal customer isn't hanging out there (unless you have a secondary goal, such as connecting with influencers).
Focus on the right platforms
Track your results so that you know which social media platforms are helping you achieve your goals, whether that is more traffic to your website, more engagement with influencers, lead generation, etc. Then focus on the platforms with the highest return on your time and money invested.
And if it turns out that your highest-returning platforms don't coincide with where you thought "your people" were hanging out, then it's time to go back to item number one and do some more target market research to discover the reason for the disconnect. You may need to change your strategy or you may need to redefine your ideal customer.
Free Social Media Simplification Planner
Grab this free planner and create a simplified social media strategy that you can actually execute.
Cater your content to your target audience
Discover and curate content that will appeal to people in your target niche. As you research your niche, you will likely see the same questions come up over and over again. Make a list of them and then create content that answers those questions.
Leverage every piece of content you create
Every piece of content you create should work hard for you. One of the best ways to ensure that it does is to repurpose your content into other formats. Blog posts should always be repurposed into long- and short-form social media messages. This is your low-hanging fruit.
But you can go beyond that. Turn an article into a slide deck with Powerpoint or Keynote and then share the deck on Slideshare. Next, you can use that deck as the basis of a video, which you upload to YouTube and then embed on your website. Or use it as talking points for a Facebook Live video.
Create a publishing schedule for your leveraged content
Once you leverage your content, schedule it. You don't want to publish repurposed content back to back on the same platform. For example, you wouldn't want to publish a blog post one day and then embed a video of that same content on your blog the next day. But you can go ahead and create the video and then use your blog scheduler to set a date to publish it in the future.
Use an editorial calendar for your social media marketing
Editorial calendars can be used for more than blog posts. Plan out the content for your preferred social networks to ensure that you share valuable content regularly.
Set up a social media library
Each time you write a piece of social content, save it in a searchable file. You will be surprised how often you have the opportunity to re-use or re-purpose what you've written.
I keep my social media library in a Google spreadsheet, with tabs for Twitter, Facebook, Instagram, and Pinterest. Here's a screenshot of the Twitter tab in my Social Media Library spreadsheet. I've included columns for the post date, post title, tweet text, post link, hashtags, and image link.
If spreadsheets aren't your thing, you could use Evernote, Trello, Asana or any program that is searchable.
Make your life easier with social media automation tools
Social media automation tools will help you execute your solopreneur social media strategy more effectively. There are many tools that will allow you to schedule social media posts in advance.
Tools such as Buffer, CoSchedule, and SmarterQueue link to several social networks, allowing you to schedule Facebook posts, tweets, pins and Instagram messages from one place. Other tools work with one or two specific platforms. Tailwind is my preferred tool for Pinterest scheduling and it can also be used for Instagram.
Many tools have free versions or at least a free trial, so you have nothing to lose by trying them out to see how they can work for you. If they simplify your social media marketing by making it easier to publish, you'll make up the cost in the amount of time you save.
You can check out my list of the best social media automation software & grab a free comparison chart here.
Make a daily appointment with social media
Social media can eat up your time if you aren't careful, so block out time on your schedule. Time blocking will help cut the risk of your getting distracted because you know you have limited time allotted. I block out 45 minutes a day, which might be one 45-minute block or three 15-minute blocks, depending on the rest of my daily schedule.
Create social media marketing systems and processes
Systems are essential to keep your social media marketing organized and efficient. How often do you want to post? Which platforms will you use? What times? What tools? Document your processes. Once you have systems in place, you'll be able to plan your content and do the work in batches.
In addition to systematizing your own social content, create systems for curation. Feedly is a great tool to collect content for sharing. Use it to organize RSS feeds of all your favorite blogs. Then it becomes easy to share on social media because you have everything in one place.
Outsource social media to a virtual assistant
The last way to simplify your social media marketing is to outsource it to a virtual assistant. If you think you can't afford a VA, then think outside the box. Do you have a teenager at home or in your neighborhood? This could be a good part-time job if you already have your social media marketing strategies organized into a repeatable system. I know someone who hired a marketing major from the local community college to work as an intern in her business.
Free Social Media Simplification Planner
Grab this free planner and create a simplified social media strategy that you can actually execute.
Next step: simplify your social media marketing strategies
Now that you have some ideas about how to simplify your social media marketing strategies, be sure to take action:
Download the Social Media Simplification Planner.
Create a plan to simplify your social media.
Execute the plan.
Want to remember this? Save How to Simplify Your Social Media Marketing Strategies to your favorite Pinterest Board.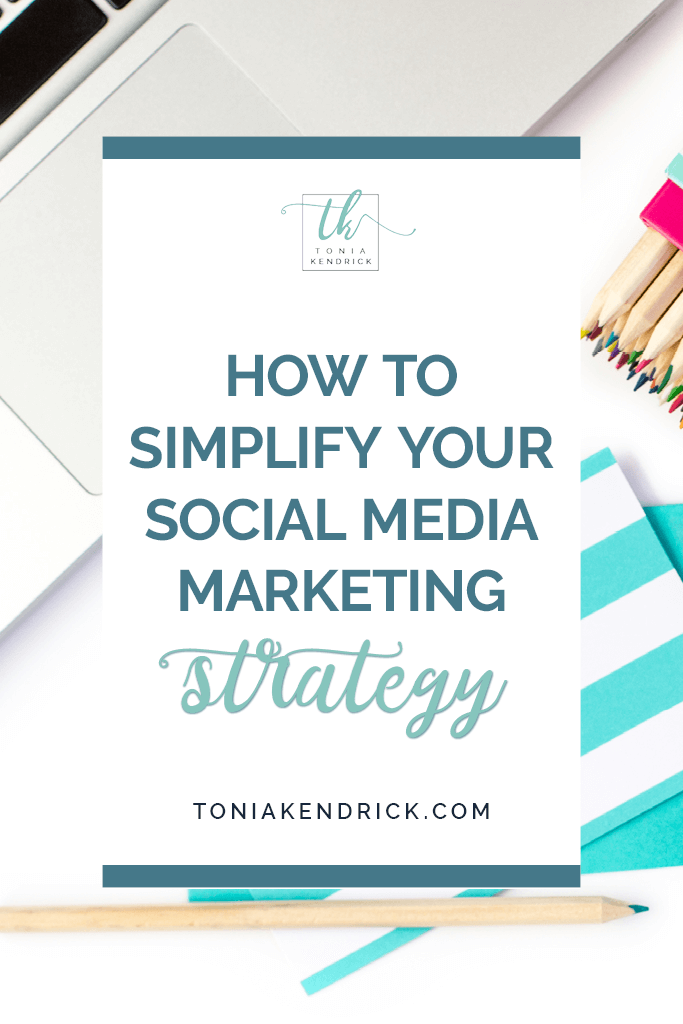 More posts on social media and marketing: