Are you a small business owner who doesn't have enough time for social media?
Social media can seem like a necessary evil. It's an important part of your marketing strategy, but it also pulls you away from the primary purpose of your business. And if you don't manage your time wisely, it can be a huge time suck.
But how do you make the most of your time on social media?
I asked 26 successful entrepreneurs in a variety of niches to share their best social media tips for busy entrepreneurs. Follow their advice and you'll save time, get more done, and have more time for your business.
26 experts share their best social media marketing tips for busy entrepreneurs
Automate your social media tasks
When it comes to saving time, one of the best social media tips for busy business owners is to start looking for ways to automate your tasks. That's the low-hanging fruit and will have a big impact on your time spent.
Outsource your social media
Don't be afraid to get outside help. Working with a virtual assistant or outside agency can free up your time to spend on other aspects of your business.
Focus on the right platforms for you and your audience
There are so many social media platforms today. But, as a busy small business owner, you can't be successful on all of them.
Create a routine and follow it
Whether you call it a routine, process, or workflow, the end result is the same. Follow the same set of actions on a regular basis and you will be more efficient and see better results.
Schedule as much as you can
Not only does scheduling save time, but it also helps you to be consistent on social media. So when life gets in the way, you still have an active presence.
Know what you want to accomplish
Don't dive into social media without a specific purpose. Know what you want to accomplish and then adjust your strategy accordingly.
Group similar tasks into batches
Group similar tasks into batches and do them all at the same time. By doing the work in batches you can reduce the time wasted switching from one task to another.
Set boundaries to stay focused
Setting boundaries allows you to control the time you spend on social media. Be intentional about how you spend your time and don't allow others to distract you.
Social media doesn't have to be a huge time-suck. Follow these time-saving social media tips and you'll find that you can accomplish your social media goals and still have plenty of time for the rest of your business.
And for one final tip: take the time to create your own social media strategy. You'll be more focused and less overwhelmed. And you'll see better results.
Want to remember this? Save 26 Social Media Marketing Tips for Busy Entrepreneurs to your favorite Pinterest Board.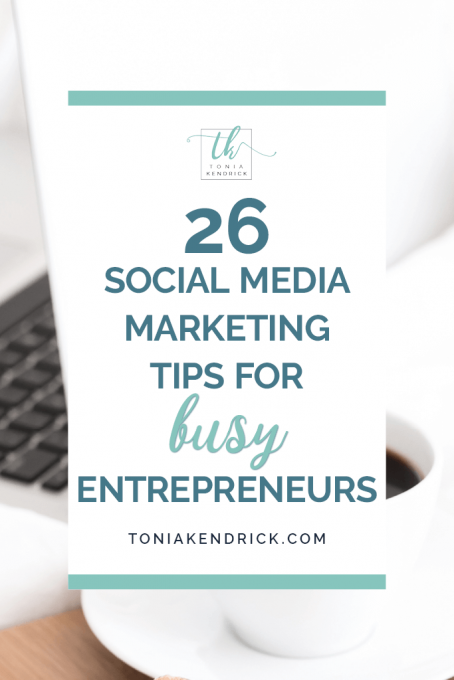 Want more social media tips?
Social Media Strategy Guide
Grab your free Social Media Strategy Getting Started Guide!